The Division of Administration and Finance is dedicated to offering the highest quality customer service and to the successful delivery of efficient and effective operations designed to support the academic goals of our students, enrich their experience at UHCL, facilitate the efficient operation of other university divisions, and support the mission of the University. We strive for continuous process improvement, the professional and holistic development of our staff so they may fulfill their mission, and sustainable and resilient operations.
Values
As leaders, we seek to demonstrate and help those within our division to follow these principles:
Know yourself and seek self-improvement
Be technically and tactically proficient
Develop a sense of responsibility among your subordinates
Make sound and timely decisions
Set the example
Know your people and look out for their welfare
Keep your people informed
Seek responsibility and take responsibility for your actions
Ensure assigned tasks are understood, supervised, and accomplished
Train your people as a team
Employ your team in accordance with its capabilities
Mark Denney, Vice President for Administration and Finance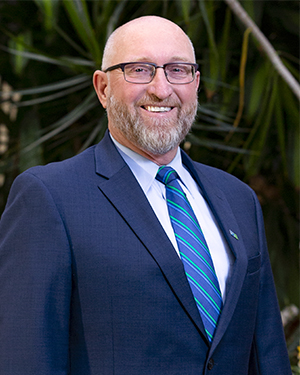 Mark Denney joined University of Houston-Clear Lake as the Vice President for Administration and Finance in October, 2018. He came to UHCL from Southern Oregon University where he served as the Associate Vice President for Budgets and Planning from 2014-2018. Prior to that, Mr. Denney served as the Senior Budget Analyst at Mt Hood Community College just outside Portland Oregon.
Prior to these positions, he was the Chief Business Officer at Salida Union School District and the Accounting Manager/Controller at Modesto City Schools, a public education district with over 30,000 students, both were in northern California. He has also held positions from Senior Business Analyst, Plant Accountant and Plant Controller at multiple locations in Oregon and California with the manufacturing industry for fortune 500 companies.
Mr. Denney's initial professional experience was in the United States Marine Corps where he served as a Financial Management Officer, initially overseeing payroll and travel, then progressing to serving as the Budget Officer/Comptroller for both the First Marine Division in Okinawa Japan and the First Marine Expeditionary Force (I MEF) at Camp Pendleton California. Mr. Denney served 13 years on active duty and 12 years in the reserves before retiring in 2005 as a Lieutenant Colonel
Mr. Denney holds a Bachelor of Science from Oregon State University in Financial Management and Control and a Master Business Administration from Portland State University.
Email: denney@uhcl.edu