Common Reader
About the Program
UHCL's Common Reader Program is an extension of the First-Year Seminar Program. The program, which began in fall 2014, aims to foster critical thinking and discussion around important social concepts such as race, gender, class, and citizenship. A committee of students, staff, and faculty from all four colleges select the text that is studied throughout the academic year and plan events inspired by it.
As citizens of the Clear Lake area, we believe UHCL's educational reach goes beyond entrances of the campus proper. We hope community members will gain a true feeling of being a part of a vibrant intellectual conversation with their UHCL community members.
UHCL Common Reader Program Learning Objectives:
To strengthen the academic community and creating opportunities for intellectual engagement and critical thinking;
To encourage depth in learning through carefully selected common readings that pose multiple or differing perspectives and questions;
To establish a stimulating environment that is both informal and structured, setting a tone for engagement among our faculty, staff, students, and community.
The Big Reveal of the AY 2021-22 Reader Selection
---
Academic Year 2021-22 Reader Selection
"Becoming Nicole: The Transformation of an American Family" by Amy Ellis Nutt
Join the Common Reader Program this year in reading Amy Ellis Nutt's "Becoming Nicole: The Transformation of an American Family" (2015). Part coming-of-age portrait and part courtroom drama, Nutt traces the true story of young transgender actor-activist Nicole Maines and her battle to win a landmark discrimination lawsuit. In the process, Nutt illuminates LGBTQ+ communities and their allies' long-standing efforts to uproot cultural and institutionalized barriers to gender and sexual equality.
Please contact the planning committee chair, Dr. Anne Gessler, at Gessler@uhcl.edu, for information on participation in these events.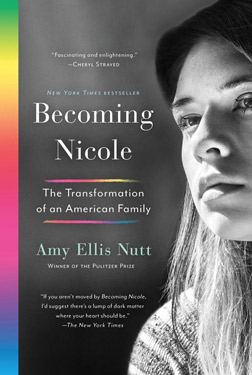 February 18, 6-8:30pm Bayou Forest Room and Zoom

Disclosure Film Screening with Guided Discussion

In collaboration with Women's and Gender Studies

February 25, 11am-12:30pm

Understanding Transgender Issues in Education

Zoom RSVP required (free for students)

In collaboration with Friday Morning Continuing Education

Human Rights Campaign Project THRIVE Webinars

Pre-recorded and publicly available

March 31, 6-7:30pm Garden Room and Zoom

International Transgender Day of Visibility Concert

In collaboration with College of Human Sciences and Humanities and Women's and Gender Studies

Transgender Day of Visibility Concert

Come celebrate Women's History Month and Transgender Day of Visibility with a free concert highlighting Texas transgender and non-binary musicians!

Featuring:

STOO (r'n'b/pop)
GNDRBNDR (house/dance)
Creekbed Carter Hogan (country/folk)

April 19, 12-1:30pm Garden Room and Zoom

Common Reader Big Reveal and Interview with Judge

Phyllis Frye

RSVP required for Big Reveal

In collaboration with the office of Orientation and New Student Programming
Special Accommodations
Any person needing an accommodation for a disability in order to participate should contact Dr. Anne Gessler at 281-283-3471 or Gessler@uhcl.edu at least one week prior to the event to arrange for the accommodation.