About the Program
UHCL's Common Reader Program is an extension of the First-Year Seminar Program. The program, which began in fall 2014, aims to foster critical thinking and discussion around important social concepts such as race, gender, class, and citizenship. A committee of students, staff, and faculty from all four colleges select the text that is studied throughout the academic year and plan events inspired by it.
As citizens of the Clear Lake area, we believe UHCL's educational reach goes beyond entrances of the campus proper. We hope community members will gain a true feeling of being a part of a vibrant intellectual conversation with their UHCL community members.
UHCL Common Reader Program Learning Objectives:
To strengthen the academic community and creating opportunities for intellectual engagement and critical thinking;
To encourage depth in learning through carefully selected common readings that pose multiple or differing perspectives and questions;
To establish a stimulating environment that is both informal and structured, setting a tone for engagement among our faculty, staff, students, and community.
The Big Reveal of the AY 2020-21 Reader Selection:
Academic Year 2019-20 Reader Selection
"Spare Parts: Four Undocumented Teenagers, One Ugly Robot, and the Battle for the American Dream" by Joshua Davis
This year's reader charts the lives of four undocumented teens competing in a national underwater robotics competition. It intersects themes of immigration, education, technology, and citizenship. "Spare Parts" was a finalist for the J. Anthony Lukas Book Prize and New York Times bestseller.
If you have any questions, please contact the planning committee chair, Dr. Anne Gessler, at Gessler@uhcl.edu.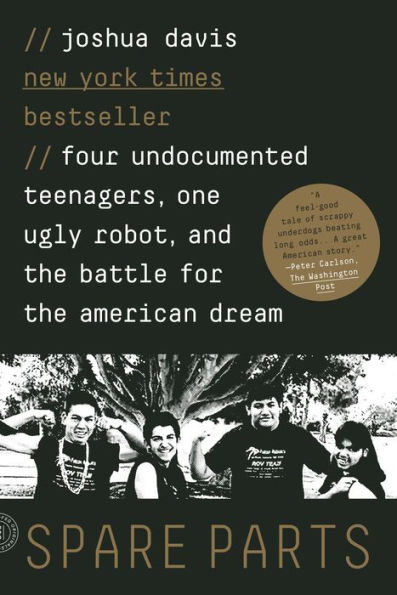 Spring 2020 Schedule of Events

Friday, February 7

Spare Parts: Diversity, Inclusion
and Ethical Technology

B1215, 9-10:30am

In collaboration with Continuing
Education and Dr. Nicholas Kelling

Saturday, February 8

Underwater Dreams Film Screening and Robotics Demo
Garden Room | 7-10pm

Tuesday, March 3

A Conversation with Spare

Parts's Lisa Spence and Special
Guests: Women in STEM

Forest Room | 12-1:30pm

In collaboration with Women's and
Gender Studies, WSSA, and SDEI

Tues., March 17 Online via Zoom

Demita Frazier, JD

INTRODUCTION TO
Radical Black Feminist History

Wed., March 18 Online via Zoom

Demita Frazier, JD

Radical COALITION BUILDING THROUGH
Collective Organizing

RESCHEDULED FOR FALL 2020

Deliberative Dialogue: DACA

In collaboration with Dr. Se Hyoung Yi and Conference for Research and Creative Arts

Thursday, April 28 1-2 p.m. Online Via Zoom

Common Reader's Big Reveal

In collaboration with The Office of the President, Office of the Dean of Students, and the Conference for Research and Creative Arts
Special Accommodations
Any person needing an accommodation for a disability in order to participate should contact Dr. Anne Gessler at 281-283-3471 or Gessler@uhcl.edu at least one week prior to the event to arrange for the accommodation.