The Hawk Pantry provides food (canned goods and non-perishables), toiletries, gender specific hygiene products, in addition to limited household/home essentials and school supplies. This discreet and confidential resource is available to all of our UHCL students.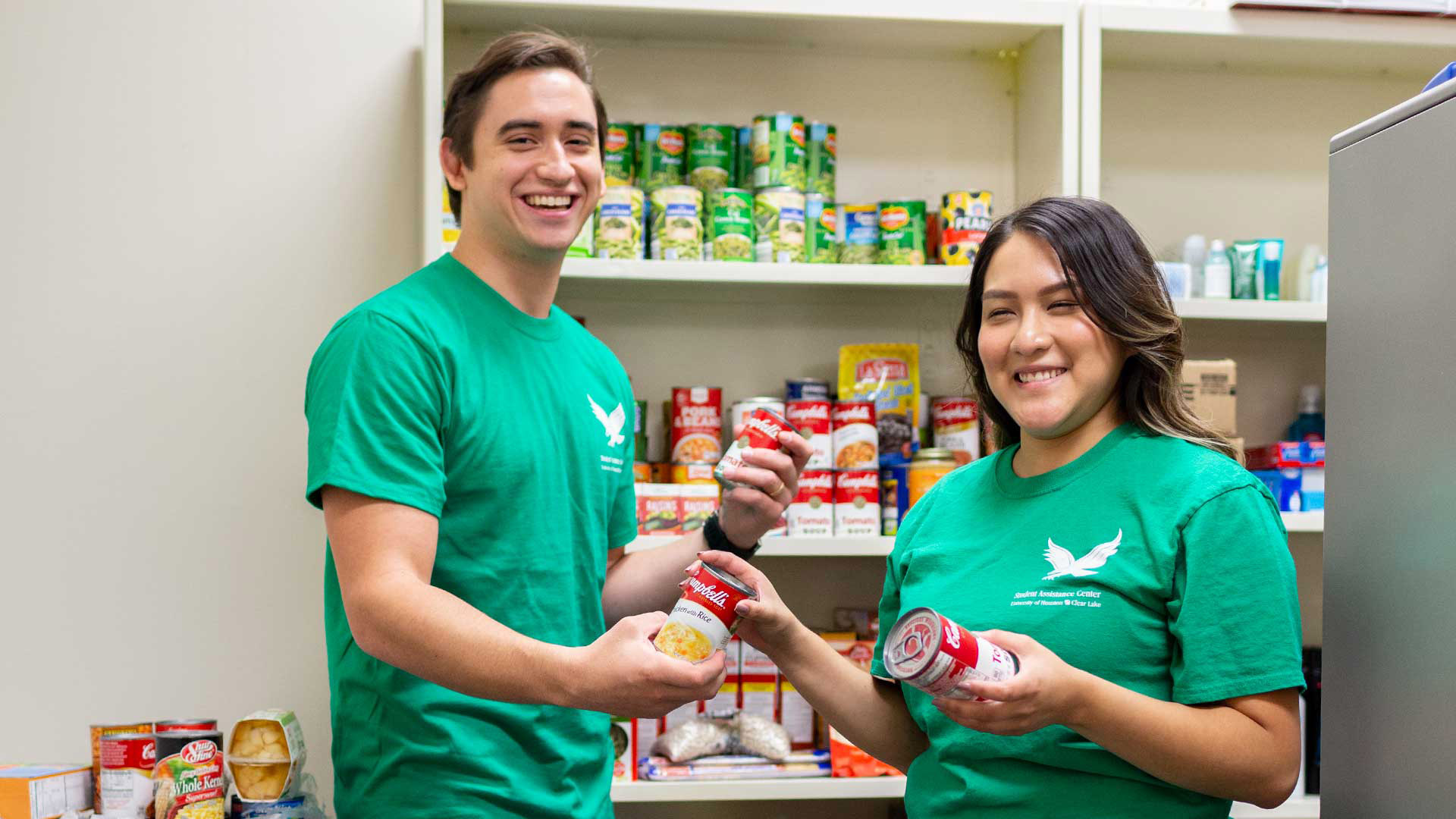 Free Groceries for Students
Schedule a Grocery Pick-up Appointment to receive free groceries! Enrolled students are guaranteed a Food Scholarship through the Houston Food Bank's Food For Change program.
UHCL Grocery Distribution:
Every 1st and 3rd Friday of the month through Dec. 3, 2021.
10 a.m. - 1 p.m., by appointment
Student Parking Lot D,

across from the Liberty Park Pond and Hunter Residence Hall.

Look for The Community Health Market Trailer (Houston Food Bank Food Distribution Truck)
Volunteer
Give Back! We encourage students, employees, alumni, family and friends to volunteer at Free Grocery distribution events. Sign up to volunteer.
Location and Hours
The pantry is located within the Dean of Students Office Suite (SSCB 1.201)
Please note that all orders will be placed online and pick-up will be scheduled with all students prior to filling your order.

Hours:

Monday and Wednesday: 8:30 a.m. - 12:30 p.m.
Tuesday and Thursday: 10 a.m. - 2 p.m.
Friday: 12:30 - 4:30 p.m.
Student Pickup
Once a student submits a Hawk Pantry Request Form, a staff member will prepare your requested items. Please know that your order will be filled based on availability.
Our staff will then contact you via email to set up an appointment for pickup.
Please bring your Hawk Card student ID with you when you come to campus to pick up your order.
Food Donations
We accept non-perishable food, toiletries, household items, and school supplies. Schedule a front desk drop-off to the Dean of Students/Office of Student Advocacy in SSCB 1.201.  You may also contact us to schedule an office pickup or curbside drop-off.  We will pick up your donation from your office or meet you at your car to collect your donation.
Contact us at HawkPantry@uhcl.edu, 281-283-2567, SSCB 1.201.
Financial Donations
Your financial donation will be used to purchase food and household items most requested from the Hawk Pantry. Gifts of any size make a difference!
Visit Give to UHCL
Select: "Search Funds"
Search for a designation: Hawk Pantry
Complete the form


Above, screenshot of selected "Search Funds" tab.
Thank you
We thank you in advance for your support! Your food donations or financial gift will make an impact in the lives of UHCL students who are experiencing food insecurities.
Questions
If you have any questions, please contact Kristi Randolph Simon, Assistant Dean of Students, via email at randolphk@uhcl.edu.