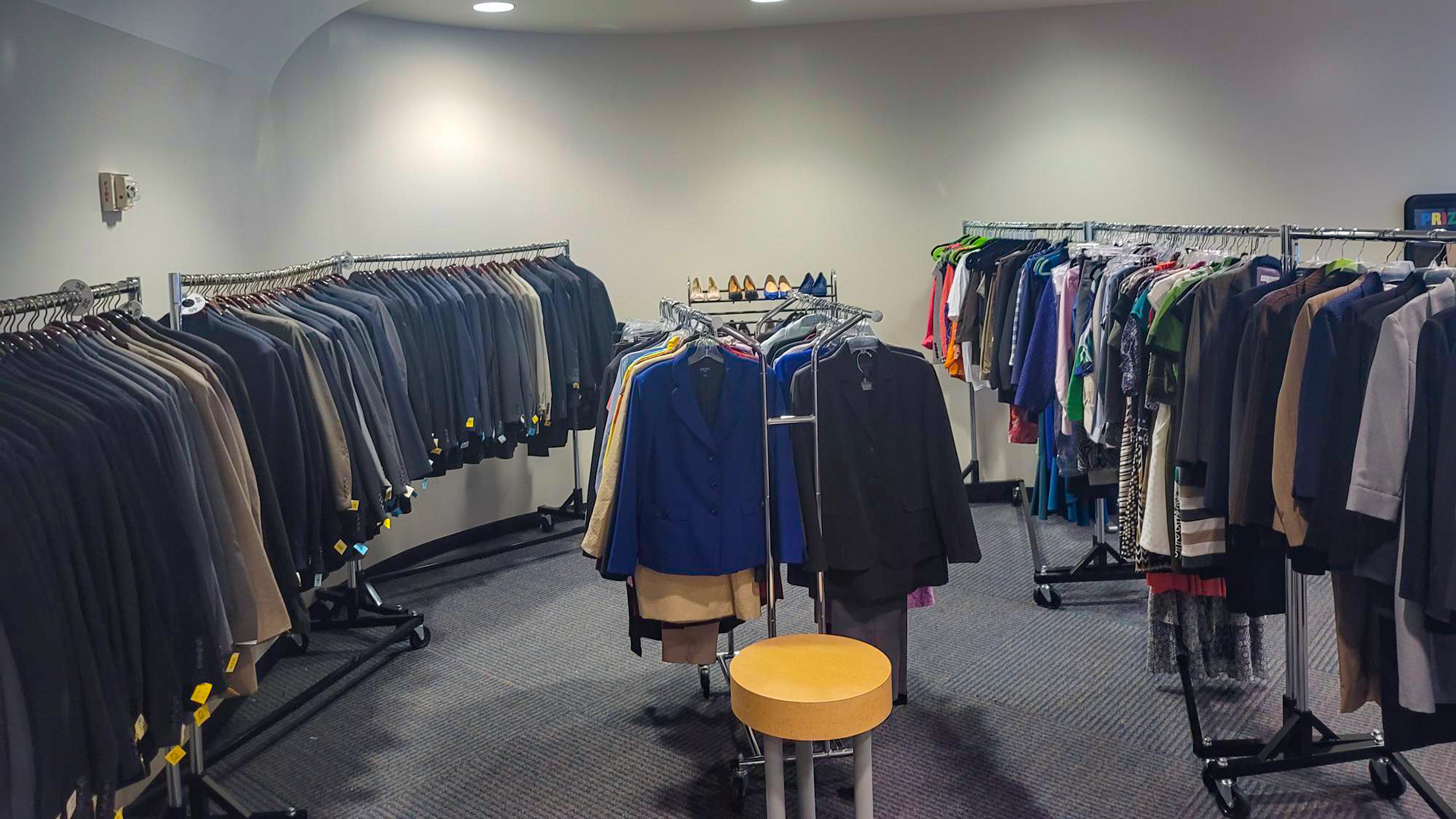 The UHCL Career Closet serves as a free resource for students to obtain new or gently used professional attire to wear for professional interviews, career fairs, employment site visits, presentations, banquets, etc.
To request more information and access to the UHCL Career Closet, please submit a Career Closet Request.
---
Donations
The Career Closet accepts professional attire and UHCL graduation regalia to support our Hawks!
Professional Attire
Please consider donating new and gently used suits, suit separates, and accessories. We are looking for timeless pieces of all sizes, including maternity clothing, preferably purchased within the last five years.
Items needed
Business suits
Skirt suits
Slacks and skirts
Blazers, jackets and sports coats
Blouses
Button-up dress shirts
Professional ties
Belts
Scarves
Black handbags, totes, messenger bags, portfolios
New dress socks, trouser socks, panty hose
New/nearly new dress shoes
UHCL graduation regalia (cap, gown, hood, tassel)
Prep Kit Items Needed (New/unused items only)
Jewelry: wrist watches, costume jewelry separates and sets, brooches, pins
Sealed make-up (compact sets, palettes, lipstick/lip gloss/lip balm)
Hair accessories
Small manicure kits
Nail polish
Donation Preferences
Clean, pressed, ready-to-wear clothing on hangers.
Clothing purchased within the last five years.
Clothing free of stains, odors, tears, missing buttons, loose hems, and need of repairs/alterations.
Professional clothing items of solid, neutral colors (black, gray, navy, white) and within current fashion trends.
We thank you for understanding, as these preferences will reduce costs to the Career Closet and allow our team to maintain safety during clothing collection and sorting.
Due to seasonal and space limitations, the UHCL Career Closet cannot accept the following items at this time: winter coats, trench coats, high-heeled shoes over 3 inches or boots.
Donation Instructions
Submit an OSA request form to schedule a drop-off time.
Graduation Regalia - Gowns for Grads
Looking for a way to give back? Help your fellow Hawks SOAR to the finish line by donating to the UHCL Gowns for Grads program!
As you know, graduation is a time for celebration! However, graduation can be expensive for some of our fellow hawks. Gowns for Grads is a program that lends donated caps and gowns to current graduates who cannot afford to purchase graduation regalia. The program offers financial relief to students in need, be it low-income students, first-generation college students, Pell Grant recipients, foster care youth/young adults, historically underrepresented students, or students experiencing a financial emergency as a result of an unplanned life event. We need your help!
A donation of a cap & gown or a monetary donation can help a Hawk tremendously.
Graduation Regalia Donations
Recent grads and donors may drop off gently used official UHCL gowns, mortarboard caps, graduate hoods and tassels to:
Drop Off
Office of Student Advocacy, Student Services & Classrooms Building, SSCB 1.201
Student Enrollment Center, Student Services & Classrooms Building, SSCB 1.102
Mail
Office of Student Advocacy - SSCB 1.201
c/o Gowns for Grads
2700 Bay Area Blvd
Houston, TX 77058
---
Monetary Donation
Monetary donations can be made through UHCL's Office of University Advancement.
On the UHCL giving webpage, select "Other."
In the special instructions box, note that the donation is for the "Hawk Emergency Fund Grant."
Monetary donations will be used for dry cleaning and the purchase of additional tassels and mortarboard caps. You can donate towards the purchase of one item or make a larger donation.
Cost of Regalia (Herf Jones):
Bachelor set (cap, gown, & tassel): $70
Master set (cap, gown, & hood): $115
Doctoral set (cap, gown, & hood): $700
Tassel: $14.00
Questions? Please submit an OSA request form for more information.
---