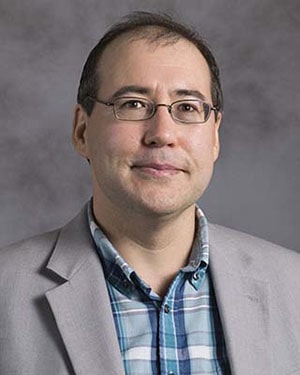 Arcadius V. Krivoshein, Ph.D.
Assistant Professor of Chemistry,
College of Science and Engineering
Contact number: 281-283-3785
Email: Krivoshein@uhcl.edu
Office: B3121-36
Biography
Education
1998 - Ph.D. in Bioorganic Chemistry, Shemyakin-Ovchinnikov Institute of Bioorganic Chemistry, Russian Academy of Sciences, Moscow, Russia. Thesis: "Physicochemical investigation of the functional domains of the Torpedo californica acetylcholine receptor." Advisors: Drs Yuri N. Utkin and Alexander S. Arseniev.
1995 - B.S. + M.S. in Biology, Kuban State University, Krasnodar, Russia. Thesis: "On the photoregulation of the polyadenylated transcripts' stability in plants." Advisors: Drs Emma V. Karaseva and Vladimir K. Plotnikov.
Instructional & Research Experience
2016 – present Assistant Professor of Chemistry, Department of Physical & Applied Sciences, University of Houston – Clear Lake, Houston, TX
2012 – 2016 Assistant Professor of Biochemistry, Department of Basic & Social Sciences, Albany College of Pharmacy & Health Sciences, Albany, NY
2010 – 2012 Assistant Professor of Chemistry, Department of Biology and Chemistry, New Mexico Highlands University, Las Vegas, NM
2008 – 2010 Senior Scientist, SibTech, Inc., Brookfield, CT
2000 – 2007 Postdoctoral Associate (2000 - 2003) and Research Associate (2003 - 2007), Department of Molecular Biology & Genetics, Cornell University, Ithaca, NY (with Dr. George P. Hess)
1999 – 2000 Postdoctoral Fellow, Barrow Neurological Institute, St. Joseph's Hospital & Medical Center, Phoenix, AZ (with Dr. Ronald J. Lukas)
---
Areas of Expertise
Analytical chemistry, (U)HPLC and mass spectrometry method development
Biochemistry and biophysics of proteins and peptides
Solid-state chemistry and molecular pharmaceutics of antiepileptic drugs
Medicinal chemistry and molecular pharmacology, especially as applied to receptors and ion channels
---
Publications
Khrustalev, V. N., Sandhu, B., Bentum, S., Fonari, A., Krivoshein, A. V., and Timofeeva, T. V. (2014) Absolute configuration and polymorphism of 2-phenylbutyramide and -methyl--phenylsuccinimide, Cryst. Growth Des. 14, 3360-3369.
Krivoshein, A. V. (2016) Anticonvulsants based on the -substituted amide group pharmacophore bind to and inhibit function of neuronal nicotinic acetylcholine receptors, ACS Chem. Neurosci. 7, 316-326.
Krivoshein, A. V., Ordonez, C., Khrustalev, V. N., and Timofeeva, T. V. (2016) Distinct molecular structures and hydrogen bond patterns of ,-diethyl-substituted cyclic imide, lactam, and acetamide derivatives in the crystalline phase, J. Mol. Struct. 1121, 196-202.
Krivoshein, A. V. (2016) Anticonvulsant lactams, cyclic imides, and acetamides: From chemical crystallography to molecular pharmaceutics, Curr. Pharm. Des. 22, 5029-5040.
Krivoshein, A. V. (2016) Molecular pharmaceutics and solid-state chemistry of drugs (Editorial), Curr. Pharm. Des. 22, 4881-4882.
Krivoshein, A. V., Lindeman, S. V., Timofeeva, T. V., and Khrustalev, V. N. (2017) Racemic and enantiopure forms of 3-ethyl-3-phenylpyrrolidin-2-one adopt very different crystal structures, Chirality (in press)
---
Courses (Current Academic Year)
Instrumental Analysis (CHEM4367)
Chromatography – Mass Spectrometry (CHEM5636)
Biochemistry I (CHEM4341)
Introductory Chemistry (CHEM1305)
Laboratory for General Chemistry I (CHEM1111) and II (CHEM1112)
Undergraduate Research (CHEM4379)
---
Research Projects
My research interests lie in the areas of bioanalytical and biophysical chemistry. The two main questions we are asking in my laboratory are:
What are the targets and the relationship between structure and activity among antiepileptic drugs? We recently discovered that compounds containing an α-substituted amide group produce their antiepileptic effect at least in part by inhibiting the neuronal nicotinic acetylcholine receptors in the brain. An interdisciplinary approach combining rapid chemical kinetics of neurotransmitter receptors, spectroscopy, chiral HPLC and chemical crystallography is being used to elucidate the mechanism of action and solid-state chemistry of these drugs.
Are there endogenous small molecules in the blood that modulate aggregation of amyloid β peptides? We use liquid chromatography, tandem mass spectrometry and Aβ(1-40) peptide aggregation assays to isolate and identify such molecules from mammalian and human blood serum.
---
Awards and Accomplishments
2004: Who's Who in America (58th edition)
2004 – 2006: Special Research Grant from the Partnership for Pediatric Epilepsy Research, "Mechanism of action of pyrrolidin-2-one anticonvulsants"
2005-2007: Who's Who in Science and Engineering (8th and 9th editions)
2007: Who's Who in Emerging Leaders (1st edition)
2011: Sigma Xi invited lecture, New Mexico Highlands University, October 5, 2011
2016: Who's Who in America (70th edition)
---