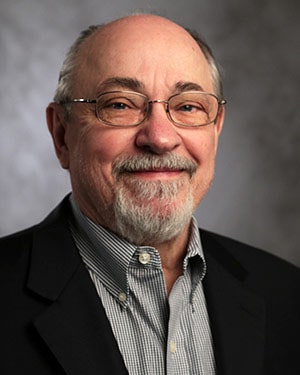 Thomas L. Harman, Ph.D.
Director of Center for Robotics Software, Department Chair of Engineering and Professor of Computer Engineering,
College of Science and Engineering
Contact number: 281-283-3774
Email: harman@uhcl.edu
Office: D101
Areas of Expertise
Dr. Thomas L. Harman is the chair of the Engineering College at the University of Houston Clear Lake (UHCL). Dr. Harman began his full-time career at UHCL in 1979. Before that he was a staff engineer in the Controls System Department of Lockheed Engineering. His Ph.D. was granted by Rice University in Electrical Engineering. He is also the Director of the Center for Robotics Software recently formed at UHCL. The center's purpose is to involve NASA, industry, and other universities in robotics education and research.
---
Publications
Dr. Harman has authored or co-authored 18 books on subjects including microprocessors, MATLAB and Simulink applications, and the National Electrical Code. With the co-director of the Center for Robotics Software, Carol Fairchild, he has co-authored a book on robotics ROS Robotics by Example published in July 2016. He and Carol are currently updating the book for the latest version of the ROS software. He has authored or co-authored 60 conference or journal publications.
---
Courses (Current Academic Year)
Advanced Engineering Mathematics with MATLAB, Advanced Microcomputer System Design, Biomedical Engineering, Computer Graphics, Digital Signal Processing, Digital Control Systems, Signals and Linear Systems, MATLAB, Network System Specifications, Windows NT, Robotics, Robotic Operating System and Applications, Mobile Robots, Electromagnetic Theory, Quantum Mechanics, Quantum Electronics, Electro‑optics, Fourier optics.
---
Research Projects
His research interests are control systems and applications of robotics and microprocessors. Several of his research papers with colleagues involved robot and laser applications to medicine.
His laboratory at UHCL has a Baxter two-armed robot and several mobile TurtleBots, flying drones, and other robots. UHCL students have participated in several robotic contests including the NASA Swarmathon held at KSC. He has been a judge and a safety advisor in the FIRST robotic contests in Houston.
---
Awards and Accomplishments
UHCL Distinguished and Endowed Professor 2005-2007, 2016-2017
Piper teaching award; Nominated in 2001, 2004 and 2011
Development leave for work on laser spectrometers at Rice University 2007
Piper teaching award finalist 1992, 1996, and 2002
President's Distinguished Research Award (UHCL) 2002
Patent with D. Seitz, et. al. for Fluid Heating Control System – US 6,246,831-2001
President's Distinguished Teaching Award (Enron) 1999
"Star" Award at UHCL in 1995
Neumann Cultural Enrichment Award ‑ study of the French language, 1987
Technical Educator of the Year 1987 ‑ Clear Lake Council of Technical Societies
---