Family Therapy Program
Program Overview/Mission
The mission of the Family Therapy program at University of Houston-Clear Lake is to be a vanguard of clinical and leadership empowerment by developing influential and diverse family therapists that strive to exert clinical, theoretical, and research - informed skills within the professional marriage and family therapy community as well as the mental health community at large.
Program Overview
The Family Therapy program has been providing exceptional training since 1983. It has graduated over 675 marriage and family therapists, many of whom are practicing throughout the country and world. We have a national reputation for offering excellence in clinical training with some of the most exciting and diverse internship site opportunities around.
The program consists of a 60 credit hour curriculum, 500 direct client contact hours, and a community-based clinical internship experience spanning three semesters. While the minimum and recommended timeframe for completing the program is 3 years, students have up to 5 years to complete their coursework and clinical hours. The coursework fulfills Texas state requirements for licensure as a MFT.
Goals and Objectives
To accomplish this mission, the faculty has established four educational outcomes. Students graduating from the UHCL master's program in Family Therapy will demonstrate competence in the following four areas:

Clinical: Graduates will demonstrate clinical competence in providing therapy to individuals, couples, families, and groups.
Theoretical: Graduates will demonstrate theoretical competence with individuals, couples, families, and groups.
Research-Informed: Graduates will demonstrate research-informed competence with individuals, couples, families, and groups.
Professional Issues: Graduates will demonstrate competence in professional issues in the field of couple and family therapy.
Program Goals and Student Learning Outcomes
---
Program Degrees
Admission Requirements
Family Therapy M.A.

Admission Window

December 10 – January 25 for fall admission

Application

Complete the ApplyTexas online university application.
Complete the Additional Supporting Documents for the program (below).

Requirements

Submit GRE scores (not more than 5 years old) through the standard reporting procedures.
Submit official transcripts from all institutions attended to the UHCL Office of Admissions.

The following two documents must be uploaded to your UHCL E-Services account (assigned after you have completed the ApplyTexas online application):

Curriculum Vitae: An expanded résumé describing previous education; all work experience; relevant course work and relevant volunteer activities; any honors, presentations, papers, avocations or other relevant life experiences
Statement of purpose and goals, not to exceed 1,000 words, describing your reasons for wanting this degree and how it fits into career goals.

Three letters of recommendation and recommendation forms (PDF) should be submitted directly by the recommenders to familytherapy@uhcl.edu. Recommendations from academic faculty and/or work supervisors who know the applicant well are especially solicited.

The FT program has an additional fee of $35 that should be sent directly to UHCL. Please indicate that the application fee is for your application to the FT program. Check or money orders may be sent to:

Family Therapy Program Admissions
University of Houston-Clear Lake
2700 Bay Area Blvd, Box 73
Houston, TX 77058
---
Additional Admission Information
Students wishing to enroll in this degree plan must formally apply. Additional information can be obtained by contacting the faculty coordinator.

Program Faculty
Sofia Georgiadou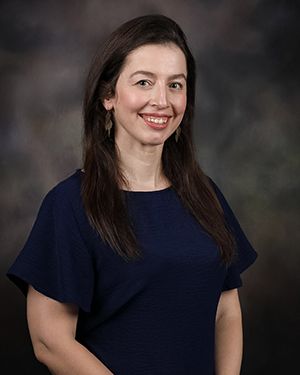 Sofia Georgiadou
Assistant Professor of Family Therapy,
Human Sciences and Humanities
Contact number: 281-283-3313
Email: georgiadou@uhcl.edu
Office: Rec 249-05
Curriculum and Instruction
Clinical and Research Opportunities
In addition to classroom training, our students engage in clinical practice at the campus-based Psychological Services Clinic and community-based internship sites. Throughout their clinical training, students receive supervision from licensed MFTs who hold an AAMFT Approved Supervisor designation. In addition to consulting with supervisors, students also utilize their colleagues to discuss and conceptualize their clinical work. These rich clinical experiences leave our students feeling confident and prepared to launch into successful careers.

Students who have an interest in research also have opportunities to work with program faculty and across other disciplines. All program faculty have active and diverse research agendas and welcome student involvement (see faculty profiles). Many students also seek opportunities to conduct research in neurofeedback with Dr. Sarah Prinsloo at MD Anderson (adjunct faculty).
Student Resources
Information for Current Students

University Student Resources
Additional Information
Career Opportunities
Investigate Your Career Options
Many of our students go on to be full-time clinicians, while others pursue doctoral studies and go on to work in academic and research settings. Many also become credentialed as State Approved or AAMFT Approved Supervisors. This allows them to supervise other clinicians working toward full licensure. While there are many ways to utilize a degree and license in MFT, here are some of the clinical settings in which MFTs practice:
Private practice
Community mental health agencies
Residential treatment centers
Wilderness programs for at-risk youth
Collaborative care settings with family physicians
Non-profit agencies
We also encourage our students to think outside the box in terms of careers that fit their interests. One notable example of this is Robert Andrews, one of the program's first graduates, who has built a career working with athletes that include many Olympic gold medalists.


For immediate assistance, please call or email Department Assistant III, Shelly Matejka, at 281-283-3491 or Matejka@uhcl.edu.
Or contact:
Human Sciences and Humanities
Academic Advising Office
hshadvising@uhcl.edu
281-283-3333
University of Houston-Clear Lake
2700 Bay Area Blvd
Houston, TX 77058-1098