In group therapy, 4-8 people meet with one or more trained group therapists to talk about issues they are concerned about.
Members provide feedback to one another by expressing their feelings about what someone says or does in group. Group provides a chance for individuals to try out new behaviors in a safe environment that they can then try in their other relationships.
Groups can also offer support, guidance, and empathy that others may not be able to give if they haven't faced the same kind of problem.
Getting Started
To learn more about a group, call Counseling Services: 281-283-2580.
To join a Therapy Group, call Counseling Services and arrange an initial consultation to meet with a therapist to determine if group is right for you.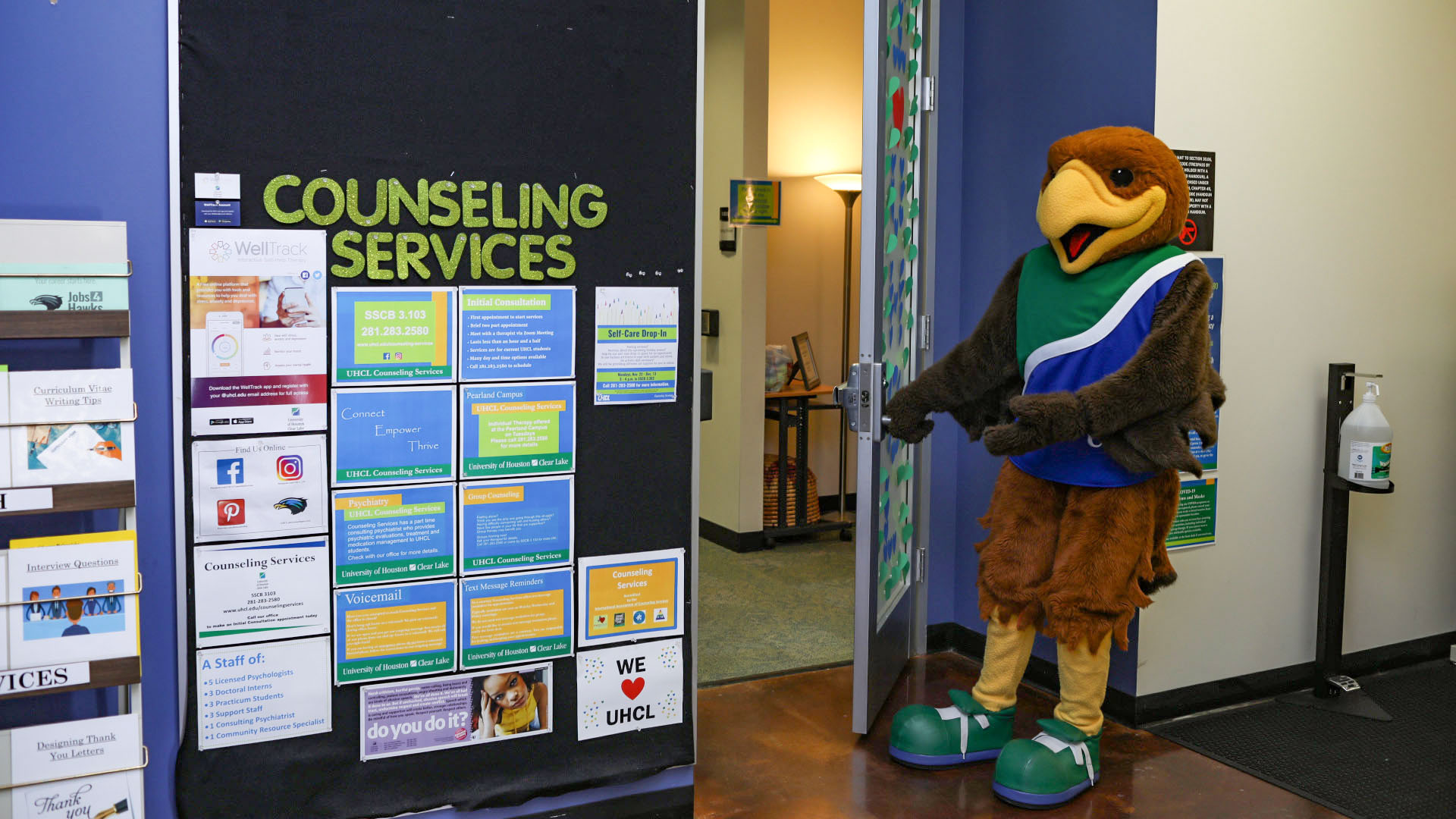 Therapy Groups - Spring 2022
Understanding Self and Others
Wednesdays 2:00-3:15 p.m.
Do you have difficulty developing or maintaining close relationships? Are you wondering what keeps you from connecting with others and having satisfying relationships?
Explore thoughts, feelings and behaviors surrounding issues such as conflict, anxiety, depression, trust, and boundaries. Members have an opportunity to practice new behaviors to enable them to create healthy relationships in life.
Relational Trauma Group
Thursdays 3:00-4:15 p.m.
Have you experienced verbal, sexual, or physical abuse and notice that it is impacting your current relationships? Members learn how to develop coping skills for dealing with trauma, set healthy boundaries, and regain self-esteem.
ACT for Depression and Anxiety Group
Tuesdays 1:00-2:15 p.m.
This is a weekly six session group devoted to helping students encounter depression and anxiety (and other problems) differently and pursue a full and meaningful life.
Acceptance and Commitment Therapy (ACT) is a relatively new form of therapy which helps you relate differently to your anxious feelings, depressed moods, worrying mind, self-defeating behaviors, and/or anything else that causes you problems. The aim of ACT is to limit the ways these run your life.
Graduate Student Group
Tuesdays 3:00-4:30 p.m.
Is Graduate School taking a toll on your mental health? Join other Graduate Students in this group to process the unique stressors of graduate school and to focus on creating and maintaining a healthy work-life balance.
Drop-in Support Groups
Circle of Sisters: A Black Women's Support Group
Members will learn how to embrace an accurate and positive self, tools needed to empower yourself and others, and how to overcome real and perceived barriers.
Come to discuss topics that impact your life and community: physical & mental health, relationships, career, spirituality, etc. Most importantly, members gain support and understanding from other African-American women.
Typical Group Rules
Commit to attending group every week and on time for a semester. If you have to miss a session, call and let the leaders know.
Keep the content of the group confidential. This helps to create an atmosphere of safety.
When not in the group session, refrain from all interactions with other group members, either in person, electronically, or through social media. Interactions between group members outside of the group can impact what happens inside the group.
Frequently Asked Questions
Why should I attend a Therapy or Support Group?
You discover you are not alone.
When in individual therapy your therapist will not share how they coped with the same issues you are struggling with but in group members do share their experiences. By talking with peers who are going through the same things, you may experience quicker and more longer-lasting results as compared to individual psychotherapy. In groups, a place of safety, caring, understanding, and validation is created.
You gain problem solving skills.
You can hear what others have tried and what has worked for them and what has not. You are able to offer the other members feedback based on your own experiences as well as receive feedback on issues you are struggling with.
You develop awareness.
Group members may bring up issues that strike a chord with you which you might not have been aware or of known how to bring up yourself. This may enable you to explore your issues at a deeper level.
You give and receive feedback.
We often worry about what others think of us or how we come across in social interactions. In group, you are given feedback in a respectful, gentle way, with the assistance of a therapist. You're able to hear, and then, use this feedback to help you have more fulfilling interpersonal relationships and better understand what gets in the way.
What if I still have anxiety about being in a group?
It's normal to have some discomfort about participating in group. You control what, how much, and when you share with the group.
You can be helped by listening to others, but you gain the most by voicing your thoughts and feelings. It often takes a few meetings to feel comfortable and to see that you are making progress