About the Alumni Association
Founded in 1981, the UHCL Alumni Association represents more than 75,000 alumni. It was created to enhance the pride, loyalty and engagement of its alumni by connecting them to fellow UHCL alumni, students, parents and friends of the university through support services, activities and events.
Working in connection with University Advancement, the association promotes the educational programs and objectives of the university by providing alumni opportunities to remain involved with their alma mater. The UHCL Alumni Association supports three endowments – the UHCL Alumni Association Scholarship Endowment for current students, the UHCL Distinguished Alumni Scholarship Endowment for descendants of UHCL alumni and the UHCL Alumni Association Program Endowment to support student programming, faculty research and development.
All UHCL graduates and recipients of teacher's certificates are automatically members of the UHCL Alumni Association; no dues are necessary. Lifetime Alumni Membership is available with a one-time contribution of at least $500 which entitles members to exclusive benefits beyond the general alumni association membership.
Historical Timeline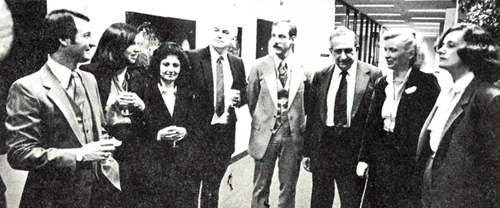 Pictured are newly elected members of the alumni association board of directors during a reception for noted atomic physicist Dr. Edward Teller. On the far left is Mike Reeves, the founding president of the association. Mike remains involved and supportive today.
---